Rick Hanson Ph.D.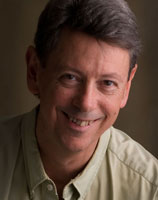 Rick Hanson, Ph.D., is a neuropsychologist and author of Buddha's Brain: The Practical Neuroscience of Happiness, Love, and Wisdom (with Rick Mendius, M.D.; Foreword by Dan Siegel, M.D. and Preface by Jack Kornfield, Ph.D.), published in 20 languages and Just One Thing: Developing a Buddha Brain One Simple Practice at a Time. Founder of the Wellspring Institute for Neuroscience and Contemplative Wisdom and Affiliate of the Greater Good Science Center at UC Berkeley, he's taught at Oxford, Stanford, and Harvard, and in meditation centers worldwide.
An authority on self-directed neuroplasticity, Dr. Hanson's work has been featured on the BBC, NPR, Consumer Reports Health, and U.S. News and World Report, and his articles have appeared in Tricycle Magazine, Insight Journal, and Inquiring Mind. He edits the Wise Brain Bulletin, and his weekly e-newsletter – Just One Thing – has over 30,000 subscribers, and also appears on Huffington Post, Psychology Today, and other major websites.
A summa cum laude graduate of UCLA, Dr. Hanson is a trustee of Saybrook University. He also served on the board of Spirit Rock Meditation Center for nine years, and was President of the Board of FamilyWorks, a community agency. He began meditating in 1974, trained in several traditions,  enjoys rock-climbing and taking a break from emails. He and his wife have two adult children.